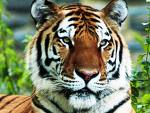 The Corbett park is first national park of India established in the year 1936 it was named Hailey National Park . In 1957 ,the park was rechristned as the Corbett National Park in the memory of Late Jim Corbett great naturalist ,eminent conservationist . It is 118 Kms. from Nainital via Kaladhungi & Ramnagar.
The Corbett national park covering an area of 521 Sq. Kms. is situated at the foothills of the Himalayas . It spreads over parts of two districts , a major part of park with an area of 312.86 sq. Kms. falls in Pauri Garhwal district and the balance 208.14 sq. Kms. in Nainital district . The park occupies portions of Kalagarh and Ramnagar forest divisions .It falls within the trek of land known as Paltidun.
Distance from major cities
DELHI
Delhi-Moradabad-Kashipur-Ramnagar (240 Kms.)
LUCKNOW
Lucknow to Bareilly,
Bareilly-Kicha-Haldwani-Ramnagar (160 Kms.)
Bareilly-Kicha-Rudrapur-Kashipur-Ramnagar (145 Kms.)
NAINITAL
Via Kaladhungi to Ramnagar (62 Kms.)
DEHRADUN
Ramnagar (250 Kms.)
Jim Corbett National Park India had the proud distinction of being chosen as the venue for the inauguration of Project Tiger in India; earlier part of Uttar Pradesh now comes under Uttaranchal, the newly found state. Jim Corbett National Park India is home to a variety of flora and fauna,
Corbett park is famous for its wild population of Tigers, Leopards and Elephants. Corbett Tiger Reserve has a great variety of fauna on account of habitat diversity. In the Jim Corbett National Park are found 110 tree species, 50 mammals' species, 580 bird species and 25 reptile species.

Corbett National park is known for its varied wildlife, and as the site for the launching of Project Tiger. Corbett National Park was one of the nine tiger reserves created at the launch of the Project Tiger in 1973. The original area of the Corbett National Park was 323.75 sq. km. to which 197.07 sq. km. was added later. In 1991, an area of 797.72 sq km was added as buffer area of the Corbett Tiger Reserve. It area includes kalagarh forest division and Ramnagar forest division.
Corbett National Park and Wildlife Conservation History
Jim Corbett National Park India has always been famous for their resident tigers. Initially Jim Corbett National Park reserve was named as 'Hailey National Park' in 1936. Jim Corbett National Park was renamed in 1954-55 as 'Ramganga National Park' and again in 1955-56 as 'Jim Corbett National Park' after Jim Corbett who hunted down tigers that had turned man-eaters, between 1907 to 1939. Jim Corbett National Park India is the 1st and oldest National Park of India. Jim Corbett National Park India was one of the nine Tiger Reserves created at the launch of the Project Tiger in 1973.

Corbett National Park General Information :
Core Area- : 520.82 sq. km, Buffer Area- : 797.72 sq. km, Total Area- : 1318.54 sq. km.
Longitude: 7805' E to 7905' E, Latitude: 29025'E to 29040' N, Altitude: 365 m – 1100 m above MSL
Time Of Visit : 15th Nov. to 15th June
Nearby Bank : Ramnagar
Nearby Petrol Pump : Ramnagar
Nearby Railway Station : Ramnagar

Area in Sq. KMs. 1318.54
i) Corbett National Park 520.82
ii) Sonanadi Wildlife Sanctuary 301.18
iii) Reserve Forest 496.54

Main Rivers Flowing Through The Reserve: Ramganga , Sonanadi , Mandal , Palain
Wild Animals Seen
Mammals: Wild Elephants , Tiger , Leopard , Civet , Jungle Cat , Leopard Cat , Sambahar , Chital , Hog Deer , Barking Deer , Ghural , Neel Gai , Wild Boar , Slothbear , Marten , Otter , Mongoose , Hare .
Birds: Over 580 Species of resident & migratory birds.
Reptiles: Gharials , Crocodiles , Python , Turtles ,King Cobra , Lizard .
Fishes: Mahseer , Goonch , Trout .
Places Nearby: Sitabani , Garzia Devi , Kalusidh ,Machor , Kalagarh Dam , Lansdowne , Kaladhungi, Corbett Museum , Nayagaon water fall , Nainital
Approach from Ramnagar, Headquarter of project Tiger , where each visitor has to get prior permission for visiting park.Here besides a regular bus service to Dhikala ,taxis are also available.

For more information, please contact :-
Field Director,
Corbett Tiger Reserve Uttarakhand,
Ramnagar (Nainital) . PIN-244715.
Tel. : 05947-253977 Reception : 251489
Fax : 251489,253977,251376
Major Wildlife Attractions - Jim Corbett National Park India


Jim Corbett National Park India is a haven for Tigers as well as its prey, which include four kinds of Deer, Wild Boar and some lesser-known animals. Leopards are mostly found in the hilly areas of the Corbett park. Some nocturnal cats found here are the Leopard Cat, Jungle Cat and Fishing Cat. Sloth Bear is found in the lower regions of the park while the Himalayan Black Bear is seen in the higher hills only. The Dole or Wild Dog, though they can be seen in the southern areas of the park along with the Jackal. Some of the smaller residents of the park are Himalayan Palm Civet, Indian Gray Mongoose, Common Otter, Blacknaped Hare and Porcupine. Elephants are among one of the main attractions of Jim Corbett Park. Along the Ramganga River shores, one can spot the long-snouted, fish-eating Gharial Crocodile and the 'Mugger' Crocodile. Also seen on the rocky hillsides is the Ghoral or Goat Antelopes. The Langur and Rhesus Monkeys are well distributed through out the jim corbett national park and warning the whole Jungle with alarm calls when they see either a Tiger or Leopard from tree-top perches.
Reaching Corbett National Park
The nearest rail head is Ramnagar which is the terminus of Delhi-Moradabad-Ramnagar broad gauge branch of North East Railway.Ramnagar is connected by road to Delhi as well as Lucknow. Delhi is 240 Kms. away via Kashipur-Moradabad-Ghaziabad , while Lucknow is 432 Kms. via Kashipur-Rampur & Bareilly. Ramnagar is 60 Kms. from Nainital via Kaladhungi.The nearest airport is at Pantnagar about 80 Kms. from Ramnagar.
Dhangarhi is the main entrance to the park is located on Ramnagar-Ranikhet road 19 Kms. from Ramnagar.Dhangarhi houses a museum of dead animals and is worth visiting. South western boundry of park touches Kalagarh which can also be approached from Moradabad.Dhikala 35 Kms. from Dhangarhi connected by forest road is the main tourist spot of the park.There is one more entrance from Amdanda six Kms. from Ramnagar in Phooltal area.
The existing forest roads in the park and their condition are as under.
| | | |
| --- | --- | --- |
| Name Of Road | Distance in Kms. | Condtion Of Roads |
| Dhangarhi – Dhikala | 31 | Fair weather fit for all type of vehicles. |
| Bijrani – Dhikala | 48 | Fair weather fit for jeeps only. |
| Ramnagar – Kalagarh | 45 | -do- |
| Dhikala – Kanda | 16 | -do- |
| Dhikala–Kalagarh(via Boxer) | 25 | -do- |
| Gairal – Dhulwa | 3 | -do- |
| Phulai – Ringore | 4 | -do- |
| Jhirnajali – Gairal | 3 | -do- |
Tarrif in Indian Rupees
Discription

Indian

Foreigner

1. Entry fee (Dhikala Zone)
Per person for first three days & two nights

50

450

Per additional per day

30

200

Entry fee for Bijrani and Sonanadi
Per Trip

30

200

Per day (Night Stay)

50

400

Entry fee for Jhirna & Durga Devi

30

100

2. Vehicle fee (Dhikala Zone)
Heavy Vehicle

750

750

Light Vehicle (Car, Jeep)

150

150

Mini Bus

400

400

Private Vehicle (Bijrani & Sonanadi)
Light Vehicle (Car,Jeep, Gypsy)
Per Trip (for four hours)
Per day (night stay)


100
200


100
200

Jhirna and Durgadevi gate (car,Jeep,Gypsy)

75

75

3. Photography
Camera Fee
a. Fixed Camera (Non Commercial)

No Fee

No Fee

b. Movie Camera (Commercial)

100

100

c. Movie Camera/Video (Non Commercial)

No Fee

No Fee

d. Movie Camera (Commercial)

100

100

Filming Fee (per day including videography)
a. Feature Film

20000

20000

b. Documentory Film

2500

2500

Security money per Film
a. Feature Film

50000

100000

b. Documentory Film

25000

50000

4. Elephant Ride (No fee below 5 year of age)
Per person (For two hours)

150

250

Students (For one hours)

75

200

5. Museum
a. Dhangari Museum / Visitor Centre

5

10

b. Kaladhungi Corbett Museum

6

10

c. For students (both the museum)

1

10

6. Park Day Visit
Conducted Bus Trips
a. Bijrani (per person) for four hours

200
Student 100

400
Student 400

b. Dhikala (per person) for 8 AM to 6 PM

600
Student 300

1200
Student 1200

Fee for elephant safari (out side the protected areas) (including Mahawar & Characutter)

1000/- per elephant per day

Angling Fee (out side the protected areas)
For Kosi, Ramganga, Mandal, Kothari river

150/- per day per rod
Note :-
No entry fee for below 5 years of age.
For age 5 to 12 years - 50% of the entry fee

only Indian Child

.
For Durgadevi-Lohachour tourist zone, the preseribed entry fee of Durgadevi gate will be charged but if the tourist also will visit Kanda through this zone, will be charged the preseribed rate of Dhikala tourist zone.
Corbett Jungle Resorts, Corbett Tiger Camps, Lodges & Hotels in Jim Corbett National Park India
Hotels in Jim Corbett National Park can divided in four category: Resorts, Hotels and Forest Rest Houses, providing a higher standard of accommodation at a price as well as guides for expeditions in the forests, which can be as rich in wildlife as the Jim Corbett National Park, without the restrictions.
Accommodation in Corbett and facilities
Accomadation (Rates per room per night)
Name of FRH
District
Indian

Rs.

Foreigner

Rs.

* Reservation Office

At Dhikala
a. Old Forest Rest House (Five Rooms)
Pauri Garhwal
750
2000

1

b. Cabin No.

1.

ABC, 3 AB and 4 ABC (Eight Rooms)
Pauri Garhwal
500
1200

1,2,3

c. New F.R.H.(Four Rooms)
Pauri Garhwal
500
1200

1

d. Annexe 1 to 7 (Seven Rooms)
Pauri Garhwal
500
1200

3

e. Tourist hutments 1 to 6 (6 Rooms)
Pauri Garhwal
500
1200

2

f. Log hut (23 berths, bedding not provided)
Pauri Garhwal
50
200

2

For students

,

per berth
Pauri Garhwal
25
200
At Khinanauli (Three Rooms)
Pauri Garhwal
750
2000

1

Other Rest Houses
Sarpduli (Two room), Garial (Six Rooms)
Pauri Garhwal
500
1200
Bijrani (Four Rooms) double bed
Nainital
500
1200

2

Bijrani (Two Rooms) Single bed
Nainital
250
600

2

Kanda, Sultan, Malani, Lohachour, Halduparou, Morghatti, Sindhikhal, Mundiapani, Rathuwadhap
Pauri Garhwal
250
600

2

Extra Bed
50% of room rent

Housekeeping Charges

100/- Per Room Per Night
* Reservation office
1. Chief Wildlife Warden, Uttarakhand,
Chanderbani,
Near Wildlife Institute of India, Dehradun.
2. Field Director,
Corbet Tiger Reserve Uttaranchal,
Ramnagar (Nainital) - 244715.
Tel. : 05947-251489, 251376, 251012
3. Uttaranchal Tourism,
Indraprakash Building,
Barakhamba Road, New Delhi - 110001
Tel. : 011-23319835

There are many other accommodation facilities at Ramnagar as well as at the Corbett National Park. Being one of the most frequently visited parks in the country, the forest department and other agencies have their hotels, lodges, rest houses, log huts for the visitors.
Forest rest houses, log huts etc at Dhikala, forest rest houses at Sarapduli, Bijrani, and Ghairal offer some of the best stay in the region. There are many resorts along the periphery of the park which take the load off the governments accommodation facilities. To stay at the government hotels, rest houses etc make sure that reservations are done well in advance as the pressure is really high during the tourist seasons.
In order to make the travel tour to Corbett even more joyful we at Corbett Park offer just the right kind of accommodation for you and your family or friends in Corbett. We at Corbett Park can customize the tour package and offer the corbett jungle resort and hotel accommodation. As Corbett is quite popular destination during the tourist season, it is better to get reservation before reaching there.

The park normally opens at 0600 hrs in the morning and is open till about 1100 hrs in the morning. In the afternoon the park timings usually are from 1430 to 1730. However depending on the season the timings change locally which the forest authorities of Corbett notify.


Rules at Corbett National Park

Corbet Park - Rules and Regulation
Carrying of firearms of any kind is not permitted within the Tiger Reserve.
No pets can be taken inside the National Park.
Walking or trekking within the National Park is strictly prohibited.
Driving inside the Tiger Reserve after sunset is prohibited.
Cooking is not allowed within the National Park and at Dhikala, bijrani, Gairal and Jhirna tourist complex. In other rest houses visitors can cook within the provided space.
Visitors are required to carry a litterbag while entering in the Tiger reserve and bring back their non-biodegradable litter (tin cans, plastic, glass bottles, metal foils etc.) outside the Reserve. Throwing litter inside the Tiger Reserve other than in garbage bins will invite severe penalties.
Official registered guide is compulsory on excursions.
Smoking outside residential comples/rest house and lighting of any kind of fire is strictly prohibited.
Fishing without permit is prohibited. Fishing with permits can be done only in areas outside Corbet National Park and Sonanadi Wildlife Sanctuary and only between 1st October to 30th June.
Playing of transistor and tape recorders within the Tiger Reserve is strictly prohibited.
Visitors are required to observe timings for excursions and are prohibited from taking vehicles off the designated routes thereby causing damage to plant or animal life or their habitat.
Blowing of horns and driving above the speed limit is strictly prohibited within the Tiger Reserve.
Entry into the restricted zone by the visitors is prohibited.
Shouting, teasing, chasing animals or attempts to feed them are prohibited and will invite severe penalties.
Visitors are advised to occupy accomodation as reserved on the first day itself or send prior intimation to hold the accomodation. Otherwise, the reservation will be treated as cancelled.
Maximum two adults and two children (below 12 years) per room are allowed to stay in the tourism zone. One extra bed can be provided on payment of prescribed charges.
Visitors are compulsorily required to obtain a clearance certificate before leaving their place of residence within the Tiger Reserve.
Visitors are advised to wear clothes of colours, which merge with the natural surroundings (khaki, olive green, other dull colours).
Visitors are required to switch off lights, fans and water taps when not in use and park their vehicles at appropriate parking place.
Visitors have to obtain entry permits at the reception. Entry timings are regulated in such a manner that visitors must reach their place of stay before prescribed time. Prescribed times are follows :-
| | | | | |
| --- | --- | --- | --- | --- |
| Dates | CTR Visit Timings | Last entry Dhangarhi gate | Last entry Amdanda, Khara gate | Last entry Durgadevi gate |
| 15 Nov. to 15 Feb. | 6.30 AM to 5.30 PM | 4.00 PM | 5.00 PM | 4.39 PM |
| 16 Feb. to 31 Mar. | 6.00 AM to 6.00 PM | 4.30 PM | 5.30 PM | 5.00 PM |
| 1 Apr. to 15 May | 5.45 AM to 7.00 PM | 5.30 PM | 6.30 PM | 6.00 PM |
| 16 May to 15 June | 5.30 AM to 7.15 PM | 5.45 PM | 6.45 PM | 6.15 PM |
Entry into the National Park after prescribed time is strictly prohibited.
Day visit to Dhikala Tourism Zone is not permitted except in conducted trips orgnized by Corbett Tiger Reserve.
Entry of private buses in Bijrani Tourism Zone is prohibited.
Permit would be issued for three days and two nights only.
Entry into the Tiger Reserve with or without a pass is on their own risk of the visitors. The authorities shall not be responsible in any way for damages caused if any.
Permit is not transferable and amount is not refundable, once permit is issued.
Non-vegetarian food and use of liquor is prohibited inside the park.
Entry fee will have to be paid at every entrance gate/reception.

Books Publised on Sir Jim Corbett
Jim Corbett Books ( Man-Eaters of Kumaon, The Temple Tiger and More Man-Eaters of Kumaon, Jungle Lore, The Man-Eating Leopard of Rudraprayag)
Man-Eaters of Kumaon
Book Description:
Jim Corbett's book on man-eating tigers are not only established classics, but also almost in a separate literary category by themselves. Man-Eaters of Kumaon is the best known of Colonel Corbett's books, and contains ten fascinating stories of tracking and shooting man-eaters in the Indian Himalaya during the early years of this century. The stories also contain incidental information on flora, fauna and village life, making this book altogether delightful reading.
The Temple Tiger and More Man-Eaters of Kumaon
ANNOTATION : The Last of Colonel Jim Corbetts' books on his unique and enthralling hunting experiences in India.
Book Description:
This is the last of Jim Corbett's books on his unique and thrilling hunting experiences in the Indian Himalaya. Concluding the narrative begun in the famous Man-Eaters of Kumaon, Colonel Corbett here recounts five stories of skill and endurance. As always, he writes with an acute awareness of all the jungle sights and sounds, his words charged with a great love of the human beings in the villages that lay within his hunting terrain. Together with the modesty, calm and precision of his prose, these qualities make these stories very much a part of the classic Corbett corpus.
Jungle Lore
Book Description:
Jungle Lore is the closest Jim Corbett ever came to an autobiography. It is in this book that one sees the real soul of the man and his love affair with the people, jungle and animals of the Kumaon hills. Much of Corbett's childhood is here - his first forays with catapult and gun and his first adventures. Also present is his obsession with the ways of the jungle, about which he was continually striving to learn more. But at the heart of the book is a cry for sensitivity to the fragility of nature and a lament to mankind's divorce from his environment. In this concern, many years before the issues of conservation became widely understood, Corbett was well ahead of his time. Today the import of Jungle Lore is as vibrant as it ever was, the morality even more seminal.
The Man-Eating Leopard of Rudraprayag
by: Jim Corbett
Book Description:
Most of Jim Corbett's books contain collections of stories that recount adventures tracking and shooting man-eaters in the Indian Himalaya. This volume, however, consists of a single story, often considered the most exciting of all Corbett's jungle tales. He gives a carefully-detailed account of a notorious leopard that terrorized life in the hills of the colonial United Provinces. This story represents Corbett's most sustained and unique effort.
Ecotourism
The United Nations has designated 2002 as the "International Year of Ecotourism" and rightly so. Today only highly responsible tourism will help the world preserve and sustain its environmental and cultural heritage.
What is Ecotourism
Fundamentally, ecotourisim means making as little environmental impact as possible and helping to sustain the indigenous populace, thereby encouraging the preservation of wildlife and habitats when visiting a place. This is responsible form of tourism and tourism development, which encourages going back to natural products in every aspect of life. It is also the key to sustainable ecological development.
Aware of the Environment
Today the "Green Laws" of conservation are making people aware of how man and the environment can live symbiotically for more time to come and ecotourisim is the only way maximize the economic, environmental and social benefits of tourism. Everyone is a stakeholder in the process and we clearly need to avoid our past shortcomings and negative impact that they have had.
In India too the movement is gathering momentum with more and more travel and travel related organisation's are addressing the needs of the eco-tourists and promoting eco-tourism in the country.