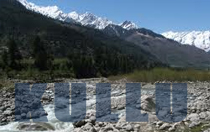 The Kullu - Manali region in the state of Himachal Pradesh is described as the Valley of Gods. It is one of the most famous hill station in Himachal Pradesh and known for its beautiful scenery, apple orchards, forests, alpine meadows, gurgling rivers and lively tribal dances. The most charming and beautiful Kulu valley spreads out its charm on either side of river Beas. The valley runs north to south of this river and is 80 kms. long and about 2 kms. at its broadest. Earlier, Kullu was known as Kulanthpitha, 'the end of the habitable world'. Kullu is blessed with an abundance of natural beauty and surrounded by the snow ranges of Himalayas, the Dhauladhar and the Pir Panjal range that run parallel to the south and the narrow terraced valley that runs in the north up to the Rohtang Pass. There are numerous valleys in Kullu, each of which is a visual delight and seems more beautiful than the other. The Beas river flows through the flower bedecked valley. The 'Silver Valley' has nature's treasures that lie carelessly scattered like the flowers on the high meadows. A fairly wide area is open to the tourists, trekkers, mountaineers, artists and to anyone who wishes to escape the heat and dust of the plains to breathe the exhilarating air of the Himalaya and enjoy the spectacle of the variegated mountain scenery.
Shopping in Kullu
The fine Kullu Pashmina Shawls, local tweeds, woven rugs, foot wear ('pullan'), baskets, natural oils (almond and olive), Kulu caps are the various things which can be bought from Kullu. Various articles carved out of the wide range of woods like birch, walnut, black mulberry, Tibetan carpets, tangkhas and metal craft items are also available in Kullu.
Festivals in Kullu
When Dussehra celebrations come to an end in the rest of the country, they begin at Kullu. Over 600 local deities all over the valley came here in chariots to pay homage to Lord Raghunath, the main deity of Kullu. This is a time when the valley is at its colourful best. The Dussehra Festival is celebrated in Kullu in the month of October every year. There is a great celebration in Kullu with music and dance.
Tourist Attractions in Kullu
The various tourist attractions in Kullu are Raghunath Temple, Bijali Mahadev Temple, Kasol, Roerich Art Gallery, Manikaran, Vaishno Devi Temple, Naggar, Raison, Katrain, Malana, Bajaura, Larji and Banjar.

Nearby Watchables

Kasol
Kasol is an open glade, located by the banks of the river Parvati, about 42 kms. from Kullu. Kasol is charmingly located on an open space which slopes down to the broad expanse of clear white sand at the Parvati river. Kasol is a nice place for the trout fishing.
Raghunath Temple
The Raghunath temple was built by the Raja Jagat Singh of Kullu. This temple houses the image of Raghunath, the Lord Rama, who is also the main deity of the valley. In the 17th century, Raja Jagat Singh committed a great wrong. To atone for the sin he sent a senior person to Ayodhya for statue of Lord Rama. This temple is greatly visited by thousands of tourists all over the world, especially during the Kullu Dussehra festival.
Bijali Mahadev Temple
The Bijali Mahadev temple is located about 10 kms. from Kullu across the Beas river and can only be reached by a trek. The Bijli Mahadev temple is one of the striking temple in the Kullu district. There is a Linga of Lord Shiva in this temple. From the temple a panoramic view of Kulu and Paravati valleys can be seen. A 60 feet high staff of Bijli Mahadev temple glistens like a silver needle in the sun. It is said that the tall staff attracts the divine blessings in the form of lightening. There is a strange phenomenon of nature here that once in twelve years, lightening takes place and the Linga shatters into pieces which are later collected piece by piece and glued together by the priest with the help of butter collected from the public, while chanting hymns. The butter leaves behind its melting point and solidifies as stone. This is a strange phenomenon and the scientists are baffled that how this metamorphosis takes place.
Roerich Art Gallery
The Roerich Gallery houses the paintings and sculptures of the famous Russian artist, Nicholas Roerich. This at gallery consists of about 7000 paintings and sketches of Roerich.
Manikaran
Manikaran is only 45 kms. from Kullu and just 3 kms. from Kasol. Manikaran is known for the hot Sulphur springs that bubble next to the icy waters of the Parvati river at 1737 m. The place is visited by both Hindus and Sikhs. Thousands of people take a holy dip in hot waters. The water is so hot that even the dal, rice and vegetables etc. can be cooked in it. According to an old legend, Manikaran is connected with Lord Shiva and his divine consort, Parvati, who lost her ear rings here, which gave birth to hot waters on the bank of Parvati river. There is a Lord Rama, Shiva temple and Gurudwara. Several treks are made from here to Pulga, Khirganga and Mantalai.
Vaishno Devi Temple
At a distance of 4 kms. from Dhalpur, a small cave enshrines an image of Goddess Vaishno Devi.
Raison
Raison is situated about 16 kms. away from Kullu. This place is ideal for spending a quite holiday in solitary splendor and for holding youth camps. There are a large number of orchards in this part of the valley.
Katrain
The central and the widest part of the valley, Katrain is 20 kms. from Kullu on way to Manali. Apple orchards and trout hatchery lend charm and prominence to the place. It is also famous for bee keeping and Govt. trout farm at Patilkulh.
Malana
Little ahead of the beautiful Chanderkhani Pass lies the village Malana which is famous for the temple of Jamlu and its distinct, social and cultural life. Malana is considered to be the oldest democracy in the world. It would be worth while to visit this village to study the style and social system prevalent there.
Naggar
Naggar is delightfully situated on the left bank of the Beas, on a wooded slope and provides an extensive view. It was the capital of erstwhile Kulu state for about 1400 years. There are large number of famous temples of Vishnu, Tripura Sundari and Lord Krishna. Naggar is also a base camp for undertaking treks to Chanderkhani Pass and to remote valley of Malana.
Bajaura
Bajaura is about 15 kms. short of Kullu. Bajaura is on the main road where Basheshwar Mahadev Temple is situated about 200 m from the village in a plain between the main road and the Beas river. It is believed to have been built in the mid 8th century.
Larji
South of Kullu, Larji is 34 kms. away. Larji is a small hamlet providing excellent spot for trout fishing. This place s located in a stunning position between the foaming torrents of the river Sainj & Tirthan, before they join the Beas. The place is patronized mostly by anglers.
Banjar
At a distance of 58 kms. south of Kullu, Banjar is an excellent spot for trout fishing in the waters of river Tirthan.


Other Attractions in Kullu
The Kullu valley has numerous places for trout fishing like Katrain, Raison, Kasol and Naggar, then along the river Tirthan near Larji, in the Sainj Valley and in the Hurla Khud. There are several trekking routes in this area. Some of these treks are over the Chander khani Pass to Malana, over the Jalori Pass or Bashleo Pass to Shimla, and over the Pin Parvati Pass to Sarahan. The Beas River also offers excellent opportunities for white water rafting.


How to reach Kullu
By Air:
The nearest airport is located at Bhuntar, about 10 km from Kullu. Kulu is connected by air from Delhi and Chandigarh.

By Rail:
The closest narrow gauge railway station is located at Jogindernager, 95 km from Kullu. The most convenient railway stations are located at Chandigarh and Pathankot. The nearest railway stations are Kiratpur and Chandigarh on Broad Gauge.

By Road:
Kullu is about 530 kms from Delhi via Mandi, 240 kms from Shimla and 40 kms from Manali. Kulu is connected by good roads with Chandigarh, Delhi, Ambala, Dehradun, Haridwar, Pathankot, Dharmshala, Dalhousie, Shimla, Mandi, etc.
Distance from Kullu to other Cities
Shimla is 112.0 K.M.
Chandigarh is 164.0 K.M.
Dehradun is 237.0 K.M.
Srinagar, Jammu is 373.0 K.M.
Delhi is 433.0 K.M.
Jaipur is 672.0 K.M.
Lucknow is 795.0 K.M.
Bhopal is 1133.0 K.M.
Patna is 1231.0 K.M.
Gandhinagar is 1246.0 K.M.
Gangtok is 1431.0 K.M.
Ranchi is 1465.0 K.M.
Raipur is 1489.0 K.M.
Daman is 1581.0 K.M.
Silvassa is 1595.0 K.M.
Mumbai is 1756.0 K.M.
Kolkata is 1783.0 K.M.
Dispur is 1825.0 K.M.
Bhubaneswar is 1829.0 K.M.
Shillong is 1876.0 K.M.
Hyderabad is 1903.0 K.M.
Agartala is 1939.0 K.M.
Itanagar is 1977.0 K.M.
Aizawl is 2087.0 K.M.
Kohima is 2100.0 K.M.
Imphal is 2137.0 K.M.
Panaji is 2177.0 K.M.
Bangalore is 2471.0 K.M.
Chennai is 2487.0 K.M.
Puducherry is 2625.0 K.M.
Kavaratti is 2835.0 K.M.

General Information about Kullu

Area

Kullu Valley is about 80 Km long and scarcely about 1.6 km wide

Altitude

1219 Metres

Climate

Summer: Max. 33.8 C Min. 14 C
Winter: Max. 16 C Min. 2 C

Rainfall

100 cm (40") - annually

Best Season

April to June and September to November

Clothing Required

Cotton and tropicals in Summer and heavy woollens in winter.

STD Code

(01902)

Medical Assistance

Kullu Diagonostic & Medical Centre Dhalpur Kullu. Ph. 23064, 22303 (24 hrs)

Money Changers

State Bank of India, Dhalpur.