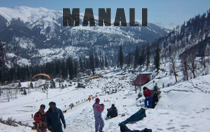 The Manali - (alt. 1,950 m or 6,398 ft), in the Beas River valley, is an important hill station in the mountains of Himachal Pradesh, India, near the northern end of the Kullu Valley.

Manali is administratively a part of the Kullu district, with population of approx. 30,000. The small town was the beginning of an ancienttrade route to Ladakh and, from there, over the Karakoram Pass on to Yarkand and Khotan in the Tarim Basin.

Manali and the surrounding area is of great significance to Indian culture and heritage as it is said to be the home of the Saptarshi, or Seven Sages

Geography

Manali is located at 32.16°N 77.10°E. The town ranges in elevation from 1,800 m (5,900 ft) to, in the uppermost "Old Manali " section, 2,000 m (6,600 ft).

Demographics

Manali is a cosmopolitan town. People from different parts of india have settled here. As of 2001 India. Manali had a population of 6265. Males constitute 64% of the population and females 36%. Manali has an average literacy rate of 74%, higher than the national average of 59.5%: male literacy is 80%, and female literacy is 63%. In Manali , 9% of the population is under 6 years of age.

Climate

The climate in Manali is predominantly cold during winters, and moderately cool during summers. The temperatures range from 4 °C (39 °F) to 30 °C (86 °F) over the year. The average temperature during summer is between 14 °C (57 °F) and 20 °C (68 °F), and between −7 °C (19.4 °F) and 10 °C (50 °F) in the winter.

Monthly precipitation varies between 24 mm (0.94 in) in November to 415 mm (16.3 in) in July. In average, some 45 mm (1.8 in) of precipitation is received during winter and spring months, increasing to some 115 mm (4.5 in) in summer as the monsoon approaches. The average total annual precipitation is 1,520 mm (60 in). Snowfall in the region, which usually took place in the month of December, has been delayed over the last fifteen years to January or early February.

Etymology

Manali is named after the Brahmin lawgiver Manu. The word Manali literally means "the abode of Manu". Legend has it that sage Manu stepped off his ark in Manali to recreate human life after a great flood had deluged the world. Kullu district of Himachal Pradesh in which Manali is known as the "Valley of the Gods". The Old Manali village has an ancient temple dedicated to sage Manu.

History

In ancient times, the valley was sparsely populated by nomadic hunters known as 'rakshas'. The next arrivals were the shepherds who arrived from the Kangra Valley and settled to take up agriculture. Some of the earliest inhabitants of the region are the 'naur' or 'nar', which is a caste unique to the Kullu valley. Only a few naur families are known to exist now. A naur family in the village Soyal near Haripur on the west bank of Manali was famous for the vast land they owned and their practice of having 'rakshas' as their labourers.

The British introduced apple trees and trout, which were not native to Manali flora and fauna. It is said that when apple trees were first planted the fruits were so plentiful that often branches, unable to bear the weight, would collapse. To this day, apple—along with plum and pear—remains the best source of income for the majority of its inhabitants.

Tourism in Manali received a boost after the rise of militancy in Kashmir in the late 1980s. This once quiet village was transformed into a bustling town with many hotels and restaurants.

Transport

Manali is well connected by road to Delhi through NH-21 and NH 1, which goes on to Leh and is claimed to be world's highest motorable road. Leading up to Manali from New Delhi are the towns of Panipat and Ambala in Haryana, Chandigarh(Union Territory), Ropar in Punjab, and Bilaspur, Sundernagar, and Mandi in Himachal.

Manali is not easily approachable by rail. The nearest broad gauge railheads are at Chandigarh (315 km (196 mi)), Pathankot (325 km (202 mi)) and Kalka (310 km (190 mi)). The nearest narrow gauge railhead is at Joginder Nagar (135 kilometres (84 mi))

The nearest airport is at Bhuntar, which is about 50 km (31 mi) from Manali . Currently, Kingfisher Red operates daily nonstop services from Delhi, Air India provides twice a week nonstop services and MDLR Airlines provides services to Delhi six days in a week.

Tourism in Manali

Manali is a popular Himalayan tourist destination and accounts for nearly a quarter of all tourist arrivals in Himachal Pradesh.Manali 's cool atmosphere provides a contrast to hot Indian summers.

Manali is famous for adventure sports like skiing, hiking, mountaineering, paragliding, rafting, trekking, kayaking, and mountain biking. Yak skiing is a sport unique to this area. Manali also featured in Time magazine's "Best of Asia" for its "Extreme Yak Sports".Manali also offers hot springs, religious shrines and Tibetan Buddhist temples.

Manali has become a favorite destination for honeymooners since the last few years. Statistics show that around 550 couples reach Manali daily for honeymoon in season (May, June, December, January) and around 350 couples reaches Manali daily in rest time

Manali is known for its shiny gompas or Buddhist monasteries. With the highest concentration of Tibetan refugees in the entire Kullu valley, it is famous for its Gadhan Thekchhokling Gompa, built in 1969. The monastery is maintained by donations from the local community and through the sale of hand-woven carpets in the temple workshop. The smaller and more modern Himalayan Nyingamapa Gompa stands nearer the bazaar, in a garden blooming with sunflowers.

Places of interest

Rohtang Pass, at an altitude of 3979 m (13,050 ft) above sea level, is another adventure tourist site where it can be cold even on a summer day. It is the highest point on the Manali -Keylong road and provides a wide panoramic view of mountains rising far above clouds, which is truly breath taking. Close by is a small lake called Dassaur Lake. Beas Kund, the source of river Beas, is also nearby. In winter, the road of Rothang Pass is closed.

Important to note that the road to Rohtang Pass is closed off at Manali bridge,on all tuesdays between 0900-1800 hrs for carrying out road widening work & repairs. If you are able to leave early, before 0900, you can avoid the traffic rush (found on all other days) and have Rohtang Pass to your self (well almost!!). Flip side is to be prepared for stoppages (extending upto a few hours) on the return trip as the road is blocked off where repair works are progressed. If you are driving up, be prepared for the rough broken roads at many places, sheer blind turns and tight hairpin bends, which can be exhilarating depending on the state of your nerves. Beas Kund, an igloo shaped temple, on top has a spring which is the origin of River Beas.

Hidimba Temple: It is an ancient cave temple dedicated to Hidimbi Devi, who was a character in the Indian epic, Mahābhārata. The temple is surrounded by a cedar forest at the foot of the Himālayas. The sanctuary is built over a huge rock jutting out of the ground, which was worshiped as an image of the deity. The structure was built in the year 1553.

Vashist Hot Water Springs and Temple: Around 3 km from Manali , across the Beas river is Vashist, a small village with natural sulphur springs. Modern bathhouses, with Turkish-style showers, have the hot water piped into them for the convenience of the visitors who come here to benefit from the medicinal properties. Vaishisht, also boasts a pair of old stone temples, opposite each other above the main square. Dedicated to the local patron saint Vashista, the smaller of the two opens on to a partially covered courtyard, and is adorned with elaborate woodcarvings. Those lining the interior of the shrine, blackened by years of oil-lamp and incense smoke, are particularly fine. The temple tanks are underground hot-water/sulfur springs.

Solang Valley popularly known as Snow Point, is 13 km northwest of Manali and famous for its 300-meter ski lift. It is a picturesque spot and offers splendid views of glaciers and the snow-capped mountains. Jagatsukh, the former capital of Manali , is also an important spot.

Rahala waterfalls: About 16 km from Manali at the start of the climb to the Rohtang Pass, are the beautiful Rahalla Falls at an altitude of 2,501 m.

Rozy Falls: On the way to Rohtang amazing water fall worth seeing. this water fall looks amazing between the high hills.

Monasteries: Manali is known for its shiny gompas or Buddhist monasteries. It is maintained by donations from the local community and by sale of hand-woven carpets in the temple workshop.

Old Manali : At a distance of 3 km northwest of Manali is Old Manali , famous for its orchards and old guesthouses. There is ruined fort here by the name of Manali garh. There is also the Manu Maharishi Temple, dedicated to sage Manu.

Gauri Shankar Temple at DASHAL village(700 mtrs. from Sarsai )on the main left bank Kullu Manali Highway.It is a 12th century protected monument.Also see lush green apple orchards,play with water stream out there

Fun park' near Hadimba Temple

There are some interesting temples of Tibetan Buddhist lineages located between old and new Manali .

Naggar: The Castle, Roerich House and Art gallery are places to see. Moonlight dinner on the balcony of Hotel Castle restaurant is worth experiencing, with the lovely sight of twinkling lights below in the Beas valley. Bijli Mahadev temple, about 20 kms from Naggar, is also worth visiting.

Zana Falls: 15 Kms from Naggar and 35 Kms from Manali , at Zana Village, beautiful Water Fall is worth visiting. The valley provides amazing views. There is one water fall on the road side and two other water falls which are not much explored by tourists and are amazing. Moreover Traditional Himachali food is available here at small hut like shops.

Beautiful Log Hut Area and Club house: In fact both these places especially log hut area have some good hotels to stay.

The Manali Gompa:

Manali Gompa was built in 1960. It is one of the most important places for Buddhists. Buddhists come to this place from , Tibet, Spiti, Lahul and Kinnaur. Manali Gompa is world famous for a large statue of Buddha and for its wall paintings.

Kothi:

Kothi is located at the bottom of Rohatang Pass. It is a beautiful and photographic village where tourists can capture different thrilling views of the deep gorge through which the Beas swiftly runs. This is an amazing place to experience the natural beauty of high altitude mountain.

Nehru Kund: Nehru Kund is located at the distance of around 6 km from Manali . It is one of the natural springs of natural water in India. Nehru Kund is named after the late Prime Minister Jawar Lal Nehru. Nehru used to drink water from this Kund, while his journey to Manali . Nehru Kund is on the Manali -Keylong road, about 6 kms from Manali . It is understood that a landslide has wiped out this spring.