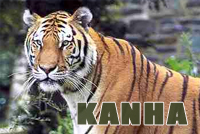 Kanha National Park is situated in the Mandla and Balaghat districts of Madhya Pradesh. As we have read in the famous writings of Rudyard Kipling - The Jungle Book, Kanha meets every detailing that Kipling has said about.
In the 1930s, Kanha area was divided into two sanctuaries, Hallon and Banjar, of 250 and 300 km . Kanha National Park was created on 1 June 1955 by a special law and, since then, it has dedicated itself in preserving a variety of animal species. Many endangered species have indeed been living here since they have been preserved with care. Today Kanha is among the few most scenic and beautiful wildlife reserves in Asia. This 'Tiger Country' is the ideal home for both predator and prey.By far the most striking features of this region are the open grassy meadows, where sighting blackbuck, swamp deer, sambhar and chital is common. And, if one can transcend into time, a barefooted Mowgli would perhaps come padding along the dusty trail, for this is the land of Kipling's Jungle Book.

Today Kanha stretches over an area of 940 km in the two districts Mandla and Balaghat. Together with a surrounding buffer zone of 1,067 km and the neighboring 110 km Phen Sanctuary it forms the Kanha Tiger Reserve."Kanha Tiger Reserve". Madhya Pradesh Forest Department. Retrieved 14 April 2010. This makes it the largest National Park in Central India. For management purposes, the park is divided into 5 ranges: Kisli, Kanha, and Mukki in the western block, and Bhaisanghat and Supkhar in the eastern sector. These latter two ranges are closed off entirely to the public. Within Kisli, Kanha, and Mukki ranges, certain roads and areas are also closed to tourists. As of this writing (mid-1998), the percentage of the park's core area open to visitors (227 km2) is about 25%. The park is served by an extensive network (a little over 700 km) of generally well-maintained roads
The park has a significant population of Royal Bengal Tiger, leopards, the sloth bear, Barasingha and Indian wild dog. The lush sal and bamboo forests, grassy meadows and ravines of Kanha provided inspiration to Rudyard Kipling for his famous novel "Jungle Book "
Kanha National Park is home to over 200 species of flowering plants."Kanha National Park". The lowland forest is a mixture of sal (Shorea robusta) and other mixed forest trees, interspersed with meadows. The highland forests are tropical moist dry deciduous type and of a completely different nature with bamboo on slopes (Dendrocalamus strictus). A very good looking Indian ghost tree (kullu) can also be seen in the dense forest.
Kanha Tiger Reserve abounds in meadows or maidans which are basically open grasslands that have sprung up in fields of abandoned villages, evacuated to make way for the animals. Kanha meadow is one such example. There are many species of grass recorded at Kanha some of which are important for the survival of Barasingha (Cervus duvauceli branderi). Dense forested zones with good crown cover has abundant species of climbers, shrubs and herbs flourishing in the understory. Aquatic plants in numerous "tal" (lakes) are life line for migratory and wetland species of birds.
At Kanha the majestic tiger is the keystone species. The big cats tigers and leopards are tertiary carnivores in the food chain. Besides the big cats wild dogs, wild cat, fox and the jackal are carnivores commonly seen at Kanha.
Among the deer species Swamp Deer or Hard Ground Barasingha is pride of the place as it is the only sub species of swamp deer in India (Cervus Duavcelli Branderi). The animal is adopted to hard ground unlike swamp deers of the North which live in marshy swamps. Kanha National Park has been instrumental in rescuing the "Swamp Deer" from extinction. Indian Gaur (Bos guarus) is in reality an ox race it is found in Kanha But seen mostly as winters ends. In summers gaur inhabit meadows and water holes in the park.
Other commonly seen animals in the park include the spotted deer, sambar, barking deer and the four-horned deer. The latter can be seen at Bamni Dadar climb. Recently, mouse deer have also been discovered in the tiger reserve. Black buck did not originally survive here as the habitat was not suitable. However, Black buck have recently been reintroduced inside a fenced area in the park. Nilgai can still be seen near the Sarahi Gate, while the Indian Wolf once commonly seen at Mocha is a rare sight now. Hyena and sloth bear are seen occasionally. Langurs and wild boars are common, but the pugnacious rhesus macaque is seen less often.Nocturnal animals like fox, hyena, jungle cat, civets, porcupine, ratel or honey badger and hares can be seen outside the park confines.Reptiles like pythosn, cobras, krait, rat snakes, vipers, keelbacks and grass snakes are nocturnal animals, and are therefore rarely seen. There are many species of turtles as well as amphibians found in or near the water bodies.

The main attraction though is the famous "Sher Khan" of Kipling or the Royal Bengal Tiger, a glimpse of which will surely give you the pleasure of repeating your visit story of Kanha to others again and again.
At Kanha, inside the park, there is also a conservation museum, which is a great place to find out more about the topography of the park as well as the conservation methods followed. There is also a small section on the culture and tribes of Madhya Pradesh who originally inhabited this region. The museum is also a good place to take a break during you tour, step out of the jeep and stretch your legs before hopping back in for another round.It is closed every Wednesday.

Tiger safari requires a lot of patience, and while you traverse the forest or plains for the mighty cat to put in an appearance, the park unfolds stunning vistas of the surrounding greens and other curious creatures of the wild.

NAME OF THE REGIONS IN KANHA NATIONAL PARK :
Khatia/Kisli:- Khatiya Gate is the oldest entrance gate then other two entrances.Better connected from Jabalpur (165kms), Nagpur (300kms). As Kisli village is inside core zone, close to Khatia gate, it is often termed as Kisli gate also.
Mukki:-Opened for visitors to reduce the pressure on Khatia entrance gate.It is about 45kms from Khatia entrance.
Sarhi:- Latest one entrance for Kanha Tiger Reserve,so not so popular.
Do's and Dont's in Kanha


Once you are there, you should follow the Rules in Kanha National Park:
Limit deforestation - make no open fires and discourage others from doing so. A small careless fire can destroy an entire forest.
Where water is heated by scarce firewood, use as little as possible.
Burn or bury paper and natural refuse and litter and carry out all non-degradable garbage like plastic bags, foil packets, glass bottles and metal cans - these should be recycled.
Avoid carving your Initials on trees - they hurt too. Graffiti on rock - faces are marks of your polluting tendencies, for all to scorn.
Keep local water clean and avoid using chemical detergents in streams or springs. If no toilet facilities are available, make sure you are at least 30 meters away from water sources and bury wastes.
Plants should be left to flourish in their native location - taking cuttings and roots is illegal in Nature reserves.
Avoid making loud noises and playing radios or tape-recorders in wildlife areas. Remember - unnatural sounds and natural wonders do not mix.
Avoid offering food to animals & birds - you are threatening their foraging / hunting skills and your food will probably make them sick.
If you see anyone hunting or hurting / teasing birds or animals, report them to the authorities if you cannot stop them yourself.
Stop people from plucking flowers or leaves. They should be left as they are - for all to enjoy.
While taking photographs or shooting your video-camera is always encouraged, please do not disturb your subject in any way. Remember that use of flash guns, particularly close up, can disturb and annoy wild animals and nesting birds.

Do's
Get lenses and film in advance as you are waiting to get on to the elephant. You may also need extra films so do carry it!
Comply with the mahout's commands about where to sit on the howdah. Balancing the load is also important.
Be glad about the jungle as you traverse to the setting of the tiger. You are seeing the forest in a way that is pretty unlike riding down a park road.
Defend your eyes, equipment and spectacles when you are riding through thick jungle. The bamboo can give you some vicious stabs if you're not cautious.
Be geared up for the tiger to move at any time. If it does, your elephant will probably stay with it. The tiger show will enlarge a completely different tempo, so hold on!
Stay seated at all times, and make sure about the security of small kids.

Dont's
Anticipate that there will be a tiger show every day. The mahouts are triumphant at their tracking only about 60% of the time.
Don't try to race up your vehicle be in queue.
Do not convince the mahout to disturb the tiger.
Don't locate on the howdah or unhook the bar.
Make sure your voices are low and off the flash of the camera's.
Transport & facilities
Jabalpur, the most convenient place tp approach the Park from, has the nearest airport (175 km), with, however, limited flight connectivity. Nagpur (260 km) and Raipur(219 km) have other airports, with better connectivity with the rest of the country. Mandla (70 km) has a good connection with Kanha and there is a tourist taxi service from Jabalpur to the national park. From Jabalpur, the best way to travel is via Mandla and Nainpur - perhaps with an overnight stop - then taking the diversion at Bamhni. Mandla, Nainpur and Seoni all have sports clubs, Internet cafes, guides, Christian churches and some beautiful temples.
There are three gates for entrance into the Park. The Kisli gate is best accessed from Jabalpur and stops at the village Khatia, inside the buffer area. The second gate is at Mukki and the third, most recently opened, gate is at Serai.

Trains from Kolkata
Kolkotta to Jabalpur and then a road journey of 3 1/2 hours.
| | | | | | |
| --- | --- | --- | --- | --- | --- |
| Train No. | Train Name | Origin | Dep.Time | Destination | Arr.Time |
| 11448 | SHAKTIPUNJ EXP | HOWRAH JN | 14:30 | JABALPUR | 15:45 |
| 12412 | HWH MUMBAI MAIL | HOWRAH JN | 22:00 | JABALPUR | 17: |
Reaching Kanha

By Rail :-The nearest train station is Jabalpur. You may take a taxi or bus to Baihar via Mandla and request pick-up by jeep or a private transfer from The Bison Resort at Kanha.
By Air:- The nearest airports are at Jabalpur, Raipur & Nagpur. These airports are linked to many cities across India. From Raipur or Nagpur you may take a bus or taxi. By taxi the ride is approximately five hours.
By Road - Bus:- Daily bus service available from Jabalpur to the Kisli and Mukki Gates of Kanha. The Madya Pradesh State Tourism Development Corporation (MPSTDC) operates 2 buses daily, the earlier of which leaves Jabalpur at about 7 AM & reaches Kanha by noon.
By Road - Taxi:- Taxis are available for hire from Jabalpur, Bilaspur and Raipur. The ride from these cities is approximately five hours. It is advisable to reach the Kisli Gate before sunset as vehicles are not permitted within the park after dark.
Park Approved Vehicles: Four wheel drive vehicles are available for hire, which are approved by the park
The climate of this region is tropical. Summers are hot and humid with a maximum and minimum temperature of 40.6°C and 23.9°C. Winters are pleasant with an average maximum and minimum temperature of 23.9°C and 11.1°C, respectively.

The annual average rainfall is 152 cm. The park is closed from July to mid-October during monsoon.