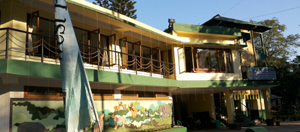 WBTDC Jaldapara Tourist Lodge Rooms starting from Rs.1500/-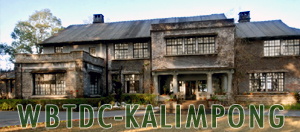 WBTDC Kalimpong -Morgan House Rooms starting from Rs.1200/-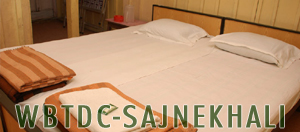 WBTDC Sajnekhali Rooms starting from Rs.1400/-

Ooty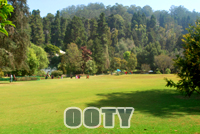 Better known as Ooty, Udhagamandalam sometimes Ootacamund and sometimes Udhagai is the district capital of the Niligiris district in Tamil Nadu. Ooty is a municpal town, located at a distance of 80 kms north of Coimbatore. Originally occupied by the Todas, the area came under the rule of the East India Company at the end of the 18th century. Today, the town's economy is based on tourism and agriculture, along with manufacture of medicines and photographic film. The town is connected to the rest of India by road and rail, and its historic sites and natural beauty attract tourists. Though being a part of Tamilnadu, often tourists from Eastern side use to cover Ooty during their Karnataka due to its easy accessibility from Bangalore and Mysore. It takes around 5 and half hours to reach Ooty from Bangalore, the distance being arund 270 kms. From Mysore, the distance is 164 kms and it takes around 3 hours.


What to See :
Located in the Blue Mountains of the Western Ghats, Ooty draws a large number of tourists every year. Lofty mountains, great lakes, dense forests, sprawling grasslands, miles of tea gardens and eucalyptus trees greet the visitors in route to Ooty. The hill station itself is a land of picturesque picnic spots. It used to be popular summer and weekend getaway for the British during the colonial days, later it was made into a summer administrative town. Ooty is situated at an altitude of 2,286 meters above sea level.

Dodabetta Hills
Dodabetta Hills is situated at the top most part of Ooty which offers an excellent view of the whole town. The area is a popular picnik spot and facilities are provided to view the city with telescopic lenses.

Government Rose Garden.
The Government rose garden (formerly known as the Jayalalithaa Rose Garden, Centerary Rose Park and Nootrandu Roja Poonga) is the largest rose garden in India. It is situated on the slopes of the Elk Hill in Vijayanagaram of Ooty town in Tamil Nadu, India at an altitude of 2200 meters. Today this garden has one of the largest collection of roses in the country with more than 20,000 varieties of roses of 2,800 cultivars. The collection include Hybrid Tea Roses, Miniature Roses, Polyanthas, Papagena, Floribunda, Ramblers, Yakimour and roses of unusual colours like black and green.

Ooty Botanical Gardens
The 22-acre (89,000 m2) Ooty Botanical Gardens was laid out in 1847 and is maintained by the Government of Tamil Nadu. The Botanical Garden is lush, green, and well-maintained. A flower show along with an exhibition of rare plant species is held every May. The Gardens have around a thousand species, both exotic and indigenous, of plants, shrubs, ferns, trees, herbal and bonsai plants.The garden has a 20-million-year-old fossilized tree. Bird Lovers often visit this place which is home to many bird species like Nilgiri Flycatcher, Ultramarine Flycatcher, Kashmiri Flycatcher during winters, Oriental White Eye, Nilgiri Black Bird etc.

Ooty Lake
Ooty lake covers an area of 65 acres. The Boat house established alongside the lake, which offers boating facilities to tourists, is a major tourist attraction in Ooty. It was constructed in 1824 by John Sullivan, the first collector of Ooty. The lake was formed by damming the mountain streams flowing down Ooty valley. The lake is set among groves of Eucalyptus trees with a railway line running along one bank. During summer season in May, boat races and boat pageantry are organised for two days at the lake.

Stone House
Stone House is the first bungalow constructed in Ooty. It was built by John Sullivan and was called as Kal Bangala by the tribals (Kal means stone in local tribal language). John Sullivan started building Stonehouse in 1822, acquiring land from the Todas at one rupee an acre.Today, it is the official residence for the principal of the Government Arts College, Ooty.

Ooty Mountain Railway
The Nilgiri Mountain Railway was built by the British in 1908, and was initially operated by the Madras Railway Company. The railway still relies on its fleet of steam locomotives.NMR comes under the jurisdiction of the newly formed Salem Division. In July 2005, UNESCO added the Nilgiri Mountain Railway as an extension to the World Heritage Site of Darjeeling Himalayan Railway, the site then became known as "Mountain Railways of India." after it satisfied the necessary criteria, thus forcing abandonment of the modernisation plans. For the past several years diesel locomotives have taken over from steam on the section between Coonoor and Udhagamandalam. Local people and tourists have led a demand for steam locos to once again haul this section.

Wax World, Ooty
A wax museum that houses life-size look-alike wax statues of personalities of Indian history, culture and heritage housed in a 142-year-old bungalow.Located in the Ooty-Coonoor road.

Tribal Museum
The Tribal Museum is part of the campus of Tribal Research Centre which is in Muthorai Palada (10 km from Ooty town). It is home to rare artifacts and photographs of tribal groups of Tamil Nadu as well as Andaman and Nicobar Islands and anthropological and archaeological primitive human culture and heritage. The Tribal Museum also displays houses belongs to Toda, Kota, Paniya, Kurumba and Kanikaran.


Hotel Khems is located in the heart of Ooty, about 1 kilometer from the Railway Station surrounded by lush green environment that is very much in keeping with nature. The hotel is situated at Shoreham Palace Road, Off Ettines Road which is very close to all major places at Ooty, the Botanical Garden, the Charring cross etc are at walkable distance from the Hotel.

Amenities:
Hot water timed to suit morning needs
Color television
Exclusive room service from 7.00 AM to 10.00PM
Multi-cusine Restaurant serving some of the most delicious Continental, Chinese, Mughlai & Indian delicacies.
Travel Desk
Doctor on call


Tariff:
OFF Season
Budget (double bed) 900 + 10% LT = Rs.990/
Superior (double bed) 1200 + 12.5 % LT + 7.42% ST = Rs.1440/
Suite(double bed) 1500 + 12.5 % LT + 7.42% ST= Rs.1800/
Extra Person Rs. 250/-

Season 1st April to 15th June , 1st December to 15th January
Budget (double bed) 1200 + 12.5% LT + 7.42% ST = Rs.1440/
Superior (double bed) 1500 + 12.5 % LT + 7.42% ST = Rs.1800/
Suite(double bed) 2000 + 12.5 % LT + 7.42% ST = Rs.2400/

Extra Person Rs. 350/


Sarkkar Palace , Ooty is located at 5 (c), Dodabetta Road, very close to the Botanical Garden and the main Market crossing.

Amenities:
Direct dialing telephone in each room
Cable and satellite colour TV
Running Hot & Cold water
Travel Desk
Shopping Arcade
Doctor on call
Laundry service
Lavish parking area

TARIFF :
DELUX ROOM : Rs.1500+Tax
ULTRA DELUXE ROOM : Rs.1800+Tax
SUITE : Rs.2350+Tax
DELUXE SUITE 4 BED : Rs.3850+Tax
EXTRA BED : Rs. 200
EXTRA PERSON : Rs. 200
CP PLANE : Rs.100/- extra per head

Tax as per Govt. Rate in both the hotels.


HOW TO BOOK : Call us at 9836955169, 9830947352, 8420424111, 8334852352 or use the form below:



3 Double Bed Rooms at Hotel Hungree, Upper Pelling, one of the best location at Pelling, Tariff - 600/-

4 Double Bed AC Rooms at Hotel Sai Sandpiper, Puri, Tariff - 700/- & 750/-

2 Kanchenjhengha facing and 1 Non facing Rooms at Hotel Sagarika, Darjeeling, Tariff - 500/- & 600/-

6 Rooms on the lap of Neora Valley at Choice Guest House, Lava, Tariff - 550/- & 600/-

| | | |
| --- | --- | --- |
| 3 Double Bed and 2 Four Bed Non Kitchen Rooms at Hotel Koanrk, Puri, Tariff - 400/- & Rs.600/- | 4 Double Beds Rooms with Kitchen with all utensils provided at Sea View Hotel,Puri, Tariff -400/- | 2 Sea Viewing Rooms Double Bed Rooms with Kitchen with all utensils provided at Bhajani, Puri, Tariff - 450/- |

| | | |
| --- | --- | --- |
| 3 Double Bed and 1 Tripple Bed, Side Sea Facing, with Kitchen Rooms at Hotel Shyamajyoti, Puri, Tariff - 450/- & Rs.500/- | | 4 Double Beds Rooms with Kitchen with all utensils provided at Sea View Hotel,Puri, Tariff -400/- |
Neora Valley Resort is one of the best and comfortable stay in Rishop. All rooms with a view of Kanchenjunga and several other peaks.Wooden furnished Cottages and five beautiful duplex rooms with attached bath, geyser, CTV and in house restaurant , wide lawn with garden. The deep silent forest of Pine, Birch, Fir and Orchids with soothing path following the chirps of birds & the view of blue sky.

ROOM TARIFF
2 Double bed Cottage: Rs.1000/-
3 Duplex Cottage:Rs. 1125/-
4 Duplex Cottages: Rs.1600/-
All extra person charge @ Rs.300/-

10% service charge on total bill amount

Kanchan View Tourist Lodge is located in the Top most Ridge of Rishop with 180 degree full view of snow capped mountain peaks from Nathula to Kumbhakarna including Kanchanjungha from it's wide lawn and balconies of every room.

Wooden furnished double bed rooms and triple bed cottage with balconies, travel desk, & in house  restaurant & garden.

ROOM TARIFF
Double bed Room Rs.1100/-
Triple bed cottage Rs 1400/-
Extra cot – Rs 200/-

10% service charge on total bill amount

Sunakhari Retreat, Green Valley Resort and Rishyap Tourist Centre , are situated at the topmost position at Rishop in a natural atmosphere and with Kanchenjungha view. All rooms are wooden furnished with attached western toilet, floor carpet, CTV, Garden, Lawn Restaurant, Hot Water Supply. Special Attraction: 180° view of Mt. Kanchenjungha & Himalayn Range from Resort.

ROOM TARIFF :


Deluxe Double - 950/-
Super Deluxe Double - 1000/-, 1100/-
Deluxe Tripple - 1000/-
Super Deluxe Tripple Bedded Room with Balcony @1200/-
10% service charge on total bill amount.

Hotel Snow View is a budget hotel with excellent surroundings all over in Rishop

Wooden furnished triple bed rooms, a few with balconies, travel desk, & in house  restaurant .

ROOM TARIFF :


1st Floor Rs.1000/-
2nd Floor- 1200/-


10% service charge on total bill amount.


Suntec Resort is a budget hotel with excellent surroundings all over in Rishop. Wooden furnished 4 no.s triple bed rooms, a few with balconies, travel desk, & in house  restaurant .

ROOM TARIFF :

Cottage(2X2BED,2X3BED) &4Room annexed behind SUNTEC
Double Bed Rooms: Rs.1000/-
Triple Bed Rooms: Rs.1100/-

10% service charge on total bill amount

Hotel Sonar Bangla is situated on the parallel hill top of Hotel Kanchanview at Rishop. With a excellent openings in the front with magnificent Kanchanjhengha standing tall, Sonal Bangla offers great view of the mountains and valley with its 6 rooms.

ROOM TARIFF
1st Floor- 1200/-
2nd Floor- 1400/-


10% service charge on total bill amount