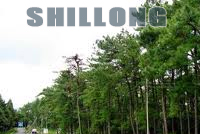 Shillong was the capital of Assam, but after the state was split as Assam and Meghalya meaning 'The abode of the clouds', it became the first capital of the newly formed State of Meghalaya . Located in undulating pine covered hills, the city has a milder climate than tropical India. The city center is 1496 meters above sea level. Shillong currently has a population of around 270,000. Home to several waterfalls, it is also known as the Scotland of East. The British legacy is still visible in architecture and food habits of population. The Assam style houses with slanting roofs, large number of windows and wooden floors look like a piece of art (and happen to be very good idea, considering Shillong lies in a area where rains and earthquakes are very common). Shillong receives heavy rainfalls during monsoon and the rainy season usually lasts longer than rest of India. An umbrella is therefore a necessity while packing your bags. Although people avoid the rainy season, it is generally the time when city is clean (rains wash the streets of all garbage) and waterfalls are in full strength.

Most of the Shillong population belong to Khasi tribe, who are predominantly Christian. There are significant Bengali and Nepali minorities. An interesting aspect of Khasis are that they are a matrilineal society - the mother is head of family, youngest daughter owns all the property and mothers surname is passed on to children.

What to See:
Umiam Lake, meghalaya (north of shillong). A beautiful lake north of Shillong, which resembles the 'Lochs', or lakes of Scotland, and is a must-see for all tourists. This lake is man-made and is better known as 'Barapani' (big water) for its sheer size. There is a water sports complex. There is a garden ( Lum Nehru park) by the side water sports complex.

Don Bosco Museum of Indigenous North East Culture. Run by the Salesian order of the Catholic Church, the Don Bosco Museum is a truly amazing repository of information on the entire North Eastern states of Assam, Meghalaya, Manipur, Mizoram, Nagaland, Arunachal Pradesh and Tripura. Located within the precincts of the Sacred Heart Church, Mawlai, the edifice iteself is shaped like a spiral and its distinct form is discernible from quite some distance away. It has an amazing collection of attire, accoutrements, weapons, ornamentation and rare photographs. This is also the largest cultural museum in the whole Asia. Fr Sebastian is the priest who has taken up the cause of preservation of art and culture with 'missionary zeal!

Wards Lake. Wards Lake is an artificial lake surrounded by a fairly large garden. Boating facilities are available in the lake. It has a wooden bridge at the middle. Lots of lotus plants with leaves are there on either side of lake. One can find lots of colourful fishes in the lake. A cafeteria is there to provide refreshment.A fountain dancing to the tunes of song is also there.

Lady Hydari Park. The park has variety of local flowering plants and orchids. It also has a small zoo within it. Children wiil like it as there are few swings, sea-saws, slips for them. It is a famous picnic spot for local population. This park is named after the Lady Hydari, the first lady of the state, wife of the Governor of Assam. This park has a mini zoo and a deer park, which is spread over more than one kilometre.

Sweet Falls. Located in Happy Valley, it is a very steep fall. Extreme caution is advised as there are no barricades and rocks are nearly always slippery (due to rain or dew).

Bishop & Beadon Falls. Located in Suna valley,these two are very beautiful falls. Suna is the home to wild animals such as deer, leopard,langurs,wild cats and numerous bird species.

Elephant Falls. It is in Upper Shillong area which also houses the Eastern Air Command of Indian Airforce. The scenic fall is not continuous and more of collection of smaller falls. It has footpath leading to bottom fo fall where it reaches a small lake. Its name elephant falls was given by British. Because there was a rock by the side of fall which resembled elephant. The rock was destroyed in earthquake.

Shillong Peak. Shillong Peak is the highest point in state of Meghalaya (1965 meters above sea level). There is a view-point where you can get breathtaking view of Shillong city. The city view during night is a scene to remember. It is host to a radar station for Indian Air force and tourists are advised to declare their cameras while reaching view-point and not to take pictures of radar facilities.

Butterfly Museum. There is a huge collection of different types of butterflies. Students of zoology will find them interesting. This place is also attractive for adults where they can see the natural beauty and play with the beautiful and colourful butterflies. This museum presents some of the finest and rarest species of butterflies.

Golf course Shillong golf course is located at an altitude of around 5200 ft. This is the first golf course of India which has 18 holes in it. This place is like a dream come true for the putters. This golf course is so beautiful and located at the unique location that some time it is compared with the " Glen Eagle Course" of the United State.

Cherrapunji (or Sohra as called locally) is around 60 km south of Shillong. It holds the world record for the highest rainfall ever in a calendar year. It is famous for its various waterfalls (most famous of all Noh Kalikai Falls) and limestone caves. The Monsoon is the best time to enjoy thundering waterfalls. Limestone caves are full of stalactites and stalagmites and you will find many adventurous souls venturing deep into them.

Mouswai or Noah Kalikai falls - During rainy seasons, the beauty of this waterfall can be compared with Niagra falls. The nearby Nou Kalikai falls named after Kalikai, a local woman, who committed suicide due to the death of her child, is the 4th highest waterfall in the world.

Mawsmai caves near Cherrapunji is an experience in itself, the limestone caves are well lit up by the Meghalaya Tourism, but if you want to thrill yourself more, climb up to the caves which are not lit up, they are guaranteed to spook you as one has to crawl their way in. Staircases can also be found inside as they were used while exploring the caves, nice place to play hide and seek, don't forget to carry a torch though.

Umiam is a water sports complex, developed upon the reservoir of the Umiam Hydro Electric Project, around 20 km north of Shillong. The campus consists of a lake resort and a park. It also offers many water sports activities.

Sacred Forest (or Mawphlang as called locally) are groves around 25 km away from Shillong. These are considered sacred by Khasis and people were forbidden to enter them earlier. This ensured protection of a dense growth of several kinds of trees including the Khasi pine. The heavily covered grounds around the forests facilitating growth of ferns and orchids most of them endemic.

Mawsynram is 56 km from Shillong and is known for the Giant Stalagmite formation shaped into a "Shivalinga" and found inside a cave known locally as Mawjymbuin. It also gets the heaviest rainfalls in world in recent years.

Jakrem, 64 km from Shillong, is a hot-spring of sulphur water, believed to have curative medicinal properties.

Jaintia Hills This is not a hot tourist spot but one can find a beautiful lake, a 700 hundred years old Durga temple and a rock garden.
How to Go:

By Air
Shillong Airport (SHL) is in Umroi, about 40km from Shillong (also known as Barapani Air Force Base or Umroi Airport). It is a small airport with flights via Alliance Air (operated by Indian Airlines) to/from Calcutta on certain days of the week. A bus operated by M.T.D.C runs from Airport to Shillong market.Taxis are also available. However, flights to Umroi are only from Calcutta and generally are cancelled at the last minute due to inclement weather. Guwahati airport which is 4&1/2 to 5 hours from shillong is a preferable option.
Gopinath Bordoloi Airport (GAU) in Guwahati (104 km from Shillong) is connected to rest of India with regular flights. Shared cabs (typically small cars from the airport, and larger Tata Sumos from Guwahati town center) are available from outside airport connecting to Shillong. The rate (as of June 2007)is INR 300 per passenger from Guwahati Airport to Shillong and reportedly takes 5 hours. The cab drops you off at Police Bazaar from where you can get a ride to almost any part of Shillong. En route from Guwahati to Shillong, you'll probably stop mid way at Nongpoh to freshen up and get some refreshments. Nongpoh is also a good place to pick up bamboo pickles and other condiments.Please note that the road from Guwahati to Shillong is being widened and is prone to traffic jams (upto 18 hours delay) mostly in winters. So plan your move accordingly.
By train
There are no rail lines in Meghalaya. The nearest railway station is Guwahati. It is 105 km from Shillong (reportedly takes 5 hours via taxi) and very well connected with all major cities of India.
By bus
The main interstate bus stand is located right next to Guwahati railway station. Buses run by Assam State Transport Corporation (ASTC) and Meghalaya Transport Corporation (MTC), ply every half an hour from Guwahati to Shillong. The ticket fares vary between Rs.30 to 100, depending upon bus class (ordinary, semi-deluxe and deluxe). Please note that many of the buses are very old and only visible difference among bus class is number of people allowed to sit. Many private run buses also run between two cities but they leave from Paltan Bazar area and cost around Rs. 70. Private buses might be better built but are occasionally crowded and have more stops enroute. Buses usually take around 4 hours with a mid-way stop at Nong-poh. Shared taxis are available from Paltan Bazar area which is adjacent to the railway station. These are generally SUV sized vehicles (Tata Sumo & Mahindra Bolero) shared between 8 people. They take around 3 hours to reach Shillong from Guwahati.The cost for a SUV vehicle is Rs.150 as per 2011.