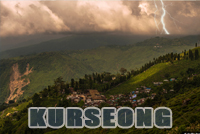 Singell is situated at the elevation of five thousand feet (approx)above sea level just two and a half kilometers away from Kurseong Town towards Darjeeling and a minute walk from National Highway with car parking facility. It is surrounded by carpet of tea bushes and forest. It is very calm and peaceful environment without any noises like that of a busy towns and cities.The environment is very homely and it is a home away from home.The place is well connected with motorable road and one can enjoy the view of passing by of the famous heritage toy train from the home stay room itself.
Places to see and do in Singell:
1.Visit to Bio-organic tea garden and see manufacturing process of world's finest Darjeeling Tea.
2.Visit to orange garden at Coffeebari(seasonal).
3.Visit to a mini Hydel power generation unit(Rinchintong Project)/ Balasun river for fishing and is a picnic spot too.
4.Can enjoy the view of Kanchanjunga from the nearby hill top when the weather is clear.
5.Being a quiet place Writers can always have that silence which they need to concentrate while writing.
Nearby Attractions Of Singell:
1.Trekkers can trek up to Chimney Busty coming down to Deer Park,Hritage schools like DOwhill&Victoria can also be visited. And relaxing in Eagle's Craig for a fabulous view of the plains and the river Balasun and Mahanadi along with the beautiful sunset will make it a day worth.
2.Non trekkers can enjoy the same in a cab/jeep going to Goretto,St.John Church( St. Mary's Hill)-Giddhapahar view point with a visit to Netaji Subash Chandra Bose Museum--Dowhill( Heritage schools, Museum, Durpin Lake, DeerPark)--Chimney , Deorali--Bagora(Air Force Station)--Eagle's Craig for the panoramic views and of course the beautiful sunset.
3.MakabariT.E.---Ambotia T.E.--Gyaman Bridge(picnic spot).
4.Want to have a ride in the heritage toy train then one can avail tickets early in the morning at 7:00a.m. fron Kurseong station to a short distance stations like Tung,Sonada etc.and be back for breakfast served fresh and hot.

Best Time To Visit Singell :
Any time of the year because Kurseong is neither too hot nor too cold except for the winters,though room heater@250/-from 6- 10:00p.m.will be available.
During monsoon though rainfall is in a little larger scale here compared to other hill station but it is really beautiful after the rain stops and the sun comes up---the views will really make you fall in love.
honeymoon couples will really enjoy this season without any disturbance except for the rain drops.
CONNECTIVITY:
Railway station: Nearest railway station is New Jalpaiguri and is 40 km only from Singell Homestay and almost one and a half hour drive. Regular taxis are available and if desired management also provides transport facilities to our esteemed guests.
Airport: Nearest airport is Bagdogra and is 40 kms from Singell Homestay and is almost one hour twenty minutes drive. The management also provides pick up and drop facility to our esteemed guests.
OTHERS:
1.Main Darjeeling Town is only one hour drive from Singell Homestay
2.Mirik which has a beautiful lake on the hill top called Sumendu Lake is only one and a half hour drive from Singell Homestay