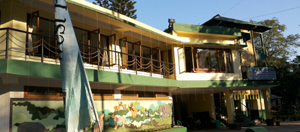 WBTDC Jaldapara Tourist Lodge Rooms starting from Rs.1500/-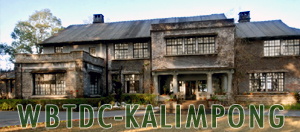 WBTDC Kalimpong -Morgan House Rooms starting from Rs.1200/-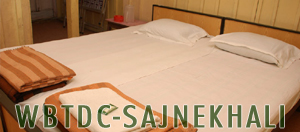 WBTDC Sajnekhali Rooms starting from Rs.1400/-

Takdah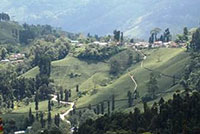 Takdah can be a perfect answer for those who want to avoid tourist congested hill towns but still like to enjoy the lovely mountains, scenic views, the tea gardens, blooming orchids, the walking trails through the coniferous forests on mountain slopes. Takdah is located at an altitude of about 4,000 ft and close to Darjeeling (about 28kms away and an hours drive from Darjeeling), yet far enough to be isolated, quiet and serene. Although the altitude is much lower than Darjeeling town, the place is cooler compared to its surrounding area.Takdah started as a military cantonment during the British colonial days in early 1900s. During those days, many senior British officers frequently visited this place. And therefore many bungalows and houses came up here for their accommodations. Those houses were built in traditional British architecture with slanted roofs.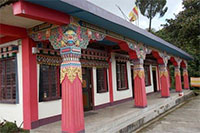 While after India's independence the British have left the place, those house and many other establishments, which they built, were left behind. Most of these house were built between 1905 and 1915. They now either belong to some locals or have been taken over by establishments like schools. And some locals have renovated the houses and offer them as guesthouse accommodations. So that gives you a rare opportunity to stay in a heritage bungalow and enjoy the old colonial charm & aura in such houses which belonged to the British once. Will come to the accommodations later.

Attractions & Activities in & around Takdah
Surprisingly there are several great places of interests and sightseeing attractions here within short distances. There are nice soft trekking routes as well. Here are the main attractions:
1) Some of the finest tea gardens of Darjeeling district are located in Takdah. You can walk down or take a local taxi tour to some of them and enjoy the tea gardens on rolling hills. The main tea estates in Takdah are Rungli Rungliot, Gielle, Namring, Jinglam, Poomong, and Teesta Valley estate. You can also visit the estate factories and watch the tea processing. Rungli Rungliot is one of the prettiest tea garden and most picturesque. It's about 2kms downhill from Takdah market area. The lush tea garden landscapes surrounded by mountains and Teesta flowing far below makes a stunning ambience.
There is a saying that a monk had apparently named this tea garden when he was searching for the best tea in Darjeeling district. In fact the name Rungli Rungliot actually means 'Thus far and no further'. The former Director's wooden Bungalow on a hill top has four luxury rooms with lovely views.
2) Further down from Rungli Rungliot you will reach the Gielle Bhanjyang Bazaar, also known as Gandhi Chowk. Once there used to be a statue of Mahatma Gandhi here, but no longer so. This is the border point of Jinglam Tea Estate and Gielle Tea Estate.
3) Takdah has a great Orchid Center spread across vast stretch of area. It's about half a kilometer from the market area towards 6th mile. Here you can see many different kinds of unusual and colorful Himalayan Orchids being cultivated and grown. Many tourists come to Takdah particularly to visit the Orchid Center.
4) There is a small monastery in Takdah whose actual name is Dechhen Pema Tshoiling Monastery, but locally known as Takdah Monastery. A steep uphill boulder road after the market area leads to a steep stairway. You will need to climb several flights of stairs to reach up to the Monastery. But once there, the views are awesome. From here you can get sweeping view of Rungli Rungliot Tea Gardens, Teesta Valley Tea Estate and Durpin Dara View Point, Kalimpong etc.
5) Visit Tinchuley, another lovely hamlet about 3kms away from Takdah and famous for its lovely views of Himalayan range including the snow peaks of Kanchenjunga and spectacular sunrise views.
6) Lamahatta Village with its magnificent gardens and views of Kanchenjunga is about 12kms from Takdah (40 minutes).
7) Another nearby place is Mongpu where you can visit the orchid nurseries, the famous museum of poet Rabindranath Tagore, and see the vast Cinchona plantations.
8) Visit the lovely orange orchards located in Bara and Chota Mangwa (both about 12kms from Takdah). The small factories here produce fresh orange juice and you can buy a few bottles of them. Tastes delicious and absolutely fresh.
9) A great place to visit by car is Triveni - the confluence of rivers Teesta & Rangeet.
10) Visit the Durpin Viewpoint located about 10kms from Takdah. You can get a spectacular view of Teesta river meandering through the mountain landscapes. You can also get lovely view of Kanchenjunga from here.
11) Peshoke Tea Garden Viewpoint is about 14kms away and offers wonderful view of the tea gardens on hill slopes.
12)Several British bungalows and houses were built in Takdah in early 1900s (some 14 of them) during the British Raj days.One must go around watching the amazing architectures of such houses, the lovely gardens they have and the aura around them.
Some of the well known houses are The Takdah Club House (about a km away, was abandoned for a long time but now a Forest Rest House), Rani Kotthi (now converted to a church), Forest Guest House, Sonpur House also known as Takdah Palace built in 1911 and located near the Club House (it's in ruins now), Old British Post Office etc. Some have been converted into schools like Green Shields Academy, Griffith High School etc.

Accessibility:How to reach Takdah
Takdah is about 60kms from NJP (the nearest railhead) as well as Bagdogra (the nearest airport). It takes about 2.5-3 hours to reach Takdah by car from NJP or Bagdogra. Siliguri, the nearest town is about 52kms from Takdah, Darjeeling is 28kms away (about 1.5 hours by car) and Kalimpong about 40kms (2 hours).
From Darjeeling,one need to come up to Jorebungalow and take a left to Peshoke road. At a place called 6th Mile take right towards Takdah, while the original road continues towards Teesta Bazaar (Note: here the places are named on their distances from Jorebungalow like 3rd mile, 6th mile, 9th mile etc). While coming from NJP or Bagdogra, one need to take Sevoke road and then come via Teesta, Rambi etc.
Reserved taxis are available from NJP, Bagdogra, Siliguri and Darjeeling. There are also shared taxis/Jeeps available from Siliguri to Takdah. They leave from Sevoke Road, behind Vishal Cinema Hall or Ranjit Garage behind 9/10 Hotel Sevoke. Buses are available (in the afternoon) from Darjeeling to Takdah.
Best time to visit Takdah
October to March is the best time to visit Takdah and the nearby areas. This is the time the sky remains clear and you can enjoy the chill of the winter.

Glenmarie Homestay , Takdah is a budget property, has an advantage of nearest Railhead, NJP and bagdogra Airport. The property has an exquisite rooms furnished for comfort as well as to delight.Nestled in the beautiful city of Takdah, which is one of the upcoming tourist centres of the Darjeeling hills.
The rooms have premium furniture installed and all rooms have entertainment equipment as a standard. The city has many exciting and interesting tourist spots which the visitor can explore. Have a delightful experience at the well-manicured lush green surroundings!

ROOM TARIFF :


| | |
| --- | --- |
| Name of Cottages | Rate |
| Two Triple Bed Room | Rs.1500/- per Room |


10% service charge on total bill amount.
Govt. Taxes as applicable.

"Ghonday Kothi Takdah", It is in Darjeeling District's Runglee Rungliot area,Situated at an altitude of 5100 feet, here you can take a walk in the cedar and pine forests, stopover at a local orchid garden, drop at some of the famous heritage British bungalows and watch the local women pick tea leaves from the endless stretches of tea gardens.


ROOM TARIFF


1 Dlx Triple Bed Room - Rs.3500/- per Room
2 Dlx Triple Bed Room - Rs.2500/- per Room


10% service charge on total bill amount.

Govt. Taxes as applicable.



"Radhaswami Homestay" is
in the heart of Takdah.An ideal homestay to spend your vacation on the calm and peaceful surrounding close to the nature. Located at the centre of Takdah and Tinchlulay, it offers its guests the convenience of exploring
both the places. Homestay serves pure veg delicacies.


ROOM TARIFF :
3 Double Bed Rooms@Rs.1300/- per Room per day.
1 Triple Bed Rooms@Rs.1500/- per Room per day.
4 Tent Accommodations - Rs.800/- per Tent per day - Max 3 Persons are allowed per Tent, Attached Western Toilet.




10% service charge on total bill amount.

Govt. Taxes as applicable.




"Takdah Bunglow12", TakdahNestled in the lovely tea garden estates of Takdah is this beautiful heritage bungalow from where
one can enjoy the views of the idyllic mountain region.
Most of the bungalows in this area are over a hundred years old,
but they have been restored back to their previous glory with
upgraded modern facilities for guests.
Takdah Heritage Colonial Bungalow boasts of the grand living room with fireplace, beautifully decorated intricate walls and vintage furniture

ROOM TARIFF :

One Dlx Double Bed - Rs.3000/- per Room
One Super Dlx Double Bed - Rs.4000/- per Room
One Suit Room - Rs.5000/- per Room

10% service charge on total bill amount.
Govt. Taxes as applicable.

"Takdah Bunglow 15", Takdah Herigate Bunglow 15 bungalow is a
heritage residency built on 1911 by British at Takdah cantonment. Now this bungalow is a homestay and is situated in the heart of Takdah.


ROOM TARIFF



ROOM RENT - Total Number of Rooms - 4
1 Double Bed Room - Rs.2000/- (2 Persons)
2 Rooms with 4 Double Beds in each room - Rs.3500/-
( 8 Persons per Room)
1 Room with 2 Double Beds - Rs.2500/-




10% service charge and VAT on all bills .

Govt. Taxes as applicable.

CALL : 9830947352, 8420424111, 8334852352
3 Double Bed Rooms at Hotel Hungree, Upper Pelling, one of the best location at Pelling, Tariff - 600/-

4 Double Bed AC Rooms at Hotel Sai Sandpiper, Puri, Tariff - 700/- & 750/-

2 Kanchenjhengha facing and 1 Non facing Rooms at Hotel Sagarika, Darjeeling, Tariff - 500/- & 600/-

6 Rooms on the lap of Neora Valley at Choice Guest House, Lava, Tariff - 550/- & 600/-

| | | |
| --- | --- | --- |
| 3 Double Bed and 2 Four Bed Non Kitchen Rooms at Hotel Koanrk, Puri, Tariff - 400/- & Rs.600/- | 4 Double Beds Rooms with Kitchen with all utensils provided at Sea View Hotel,Puri, Tariff -400/- | 2 Sea Viewing Rooms Double Bed Rooms with Kitchen with all utensils provided at Bhajani, Puri, Tariff - 450/- |

| | | |
| --- | --- | --- |
| 3 Double Bed and 1 Tripple Bed, Side Sea Facing, with Kitchen Rooms at Hotel Shyamajyoti, Puri, Tariff - 450/- & Rs.500/- | | 4 Double Beds Rooms with Kitchen with all utensils provided at Sea View Hotel,Puri, Tariff -400/- |
Neora Valley Resort is one of the best and comfortable stay in Rishop. All rooms with a view of Kanchenjunga and several other peaks.Wooden furnished Cottages and five beautiful duplex rooms with attached bath, geyser, CTV and in house restaurant , wide lawn with garden. The deep silent forest of Pine, Birch, Fir and Orchids with soothing path following the chirps of birds & the view of blue sky.

ROOM TARIFF
2 Double bed Cottage: Rs.1000/-
3 Duplex Cottage:Rs. 1125/-
4 Duplex Cottages: Rs.1600/-
All extra person charge @ Rs.300/-

10% service charge on total bill amount

Kanchan View Tourist Lodge is located in the Top most Ridge of Rishop with 180 degree full view of snow capped mountain peaks from Nathula to Kumbhakarna including Kanchanjungha from it's wide lawn and balconies of every room.

Wooden furnished double bed rooms and triple bed cottage with balconies, travel desk, & in house  restaurant & garden.

ROOM TARIFF
Double bed Room Rs.1100/-
Triple bed cottage Rs 1400/-
Extra cot – Rs 200/-

10% service charge on total bill amount

Sunakhari Retreat, Green Valley Resort and Rishyap Tourist Centre , are situated at the topmost position at Rishop in a natural atmosphere and with Kanchenjungha view. All rooms are wooden furnished with attached western toilet, floor carpet, CTV, Garden, Lawn Restaurant, Hot Water Supply. Special Attraction: 180° view of Mt. Kanchenjungha & Himalayn Range from Resort.

ROOM TARIFF :


Deluxe Double - 950/-
Super Deluxe Double - 1000/-, 1100/-
Deluxe Tripple - 1000/-
Super Deluxe Tripple Bedded Room with Balcony @1200/-
10% service charge on total bill amount.

Hotel Snow View is a budget hotel with excellent surroundings all over in Rishop

Wooden furnished triple bed rooms, a few with balconies, travel desk, & in house  restaurant .

ROOM TARIFF :


1st Floor Rs.1000/-
2nd Floor- 1200/-


10% service charge on total bill amount.


Suntec Resort is a budget hotel with excellent surroundings all over in Rishop. Wooden furnished 4 no.s triple bed rooms, a few with balconies, travel desk, & in house  restaurant .

ROOM TARIFF :

Cottage(2X2BED,2X3BED) &4Room annexed behind SUNTEC
Double Bed Rooms: Rs.1000/-
Triple Bed Rooms: Rs.1100/-

10% service charge on total bill amount

Hotel Sonar Bangla is situated on the parallel hill top of Hotel Kanchanview at Rishop. With a excellent openings in the front with magnificent Kanchanjhengha standing tall, Sonal Bangla offers great view of the mountains and valley with its 6 rooms.

ROOM TARIFF
1st Floor- 1200/-
2nd Floor- 1400/-


10% service charge on total bill amount